Continuing from where I left: On Saturday afternoon, the wave runner session ended five minutes ahead of the 1/2 hour schedule as I finally realized that Harini was really pleading to get off the water. Tanning was the last of the things we went to a sunny state like Puerto Rico but lying in the sun was the only sensible thing to do there. Lying there after the salty dip, we literally got broiled as the Caribbean sun was unbelievably blazing. (It will take a couple of months I guess to get back to our original complexion, we both came back pitch dark).
Choice of food was very limited within polimonos island and any choice for vegetarian food must be least expected there. In addition, these all-inclusive resorts charge twice or even thrice the normal price tag for even a pint of anything eatable. They also make paying for it less painful by allowing us to chargeback everything to your room so you will never realize how much you will be surprised at your final bill at checkout (we were bit cautious after we realized this from the second day) You have no choice anyway but to just keep charging it back to your room. Finishing the lunch with whatever we could get in the only restaurant there, we returned to the resort at around 4.
We headed out shortly after a shower to drive to a popular shopping area in Old San Juan, which should have been an hours drive from Fajardo. Back in the lobby, one of the hospitality girls warned us about the traffic on a saturday evening into San Juan. But we underestimated it citing new jersey and new york city traffic is much worse. A big mistake, within 15 minutes we were stuck so bad that signals go from red to green to red and we weren't moving a single cm. After a criminal waste of our precious vacation time, halfway in that traffic we decided to turn around and return. Harini was bit hungry ( you sweat everything you eat. Besides, as most star resorts, we were given less food for more 🙂 ) so we decided to get into a Subway that she spotted at the next strip mall. Although we suspected that they might not speak English, we didn't expect them to be puzzled when we said we said 'One veggie delite please'. She had no clue what we said and smiled at us and stared at the lady at the billing counter. No one could understand what exactly we wanted. It was so difficult to even explain her by pointing to the menu that we wanted "no meat". Thankfully a lady next to us in the line helped us as by translating it to them.
Traffic driving back was much better so we got into some local roads to get a sense of the country side of puerto rico. It was already dark and we couldn't really see much farther than the street lights as the roads curve a lot in the hilly country side taking us up and down from town to town. Another startling difference to US life, people hang around in groups in front of shops, parks and houses. You hear loud Latin music from some where as we drove slowly with our windows down but locals drive reckless even on such narrow and slippery roads. About 10 miles into local towns, we felt it as not a good idea to be lost during that time of the day. Harini reminded me of a similar unplanned drive that we took when we were in New Mexico where we completely lost our way. Deep into the deserted mountains of New Mexico, we were running very low gas and not even a single soul was to be found much less a gas station. We were extremely lucky to have reached one just in time when the gas was almost over. Recollecting that experience and ensuring that there is still half tank left, we drove back to Highway 3 to the known route to Wyndham.
After finishing dinner at the pool side restaurant at the resort we decided to wrap the day little early as we had already planned for the next day to visit the Culebra island, a very famous island 20 miles off the east coast of Puerto Rico. A lot many people and web sites said that not visiting Culebra would be an mistake(Why would we do that when this probably is our only trip ever to PR )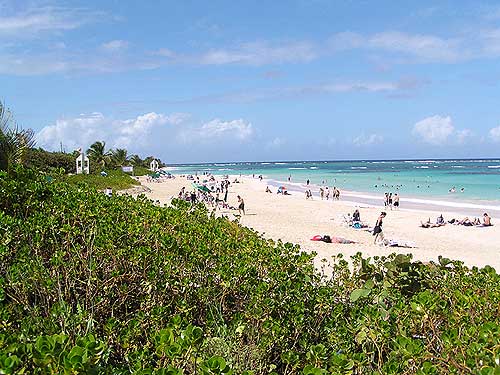 The public ferry next day was at 9.00 am and we had to drive for about 10 minutes from the resort to reach the fajardo public ferry marina. Not to take chances this time with the PR public ferry system and traffic, we left early and reached the marina at 8. Locals around the marina apparently rent their front yards for parking during the weekends during which we learnt that most of the Puerto Ricans camp out to Culebra for day picnics. Parking in one such local guy's front yard, we joined a line to buy tickets. The ticketing area and the line resembled our Chennai managaram's bus stand and train lines with zigzagged steel rods under asbestos sheets. As in India, more than a few people crowd before the counter sticking their heads and forearms into it. The crowd included variety of people including a lot of tourists from US, but most of them had packed their own bags of food, water and of course, crates of Beer. The waiting area was very much thrid-world style with trifling dwellers screaming in multiple tones trying to sell lotteries and bottled water. The ferry departed sharp at 9 for a 2 hour ride. The ocean was roaring with beauty and the splashing water from waves were adorable. Admiring this and many tiny islands (just few yards by length and width with a couple of palm trees in the middle; I am sure we have seen those in movies and posters, it was cool seeing them in real ) on our way, we reached Culebra around 10.45.
Walking down from the ferry, we had no idea what to do. Its a reasonably big island that you cant just walk around to see everything. Exactly when we were wondering about what to do next, some locals marched in asking us something in Spanish. After I said, 'No Esponala', he said, 'Taxi to Flamengo?', We said 'Yes' and followed him. We saw a bunch of mini buses wooing tourists for a $2 ride to Flamingo Beach (which we were later told by somebody as the world's second most beautiful beach; First is in Hawaii it seems). Few minutes and we reached Flamengo. Walking past the vegetations in front of the beach, we were welcomed by the breathtaking view of the beach. It was truly a spectacular with greenish rich mountains on either side and crystal clear water and foamy waves. Surprisingly, there were just around 100 or so tourists there. The mountains surrounding the ocean were all so admirable definitely God must have taken time to create such a beautiful place. I was reading the history of Culbera and apparently the tiny island was used by Pirates in past as a hideout. So the island became notoriously dangerous for anyone to visit and hence was least inhabited among the carribean islands. Even today, there is no shops, no fancy bars or restaurants and no big name resorts. There were a couple of tent-style temporary shops in front of the beach selling some snacks and beach wear. I remembered to buy a snorkeling gear before we went deep inside the beach to settle down at a good spot.
Soon we were in the sea playing in the water. As I inaugurated the snorkeling gear, Harini was hesitant again. She was already terrorized by our wave runner experience the day before. She just wanted to get knee deep in the water and sit with snorkeling gear on and just look into the sea from there. But the reeves were a little deep inside (not too much farther but at knee deep water but at hip deep) the sea. Watching me float there and enjoy the reeves, she got excited. After an hour she also learned to float holding my hands and enjoyed the reeves. She got so excited that she started humming a song while snorkeling and in that process drank a lot of water, extra salty water :). She also reminded me of the alabatross poem "water water everywhere but not a drop to drink".
We had a very good time swimming and snorkeling, looking at the scales on the sea bed, a few colorful fishes and a lot of other strange objects that people left under. Switching between water and sun, we spent a the afternoon there. It was a memorable experience. Some more snorkeling and running around, it was time to return as the last ferry from that island was at 4.30 pm. The return ferry was late by 2 hours and that forced us to hang out at the Culebra marina area watching the local kids diving into the ocean and playing all sorts of catch and run games. A chinese carry out in front of the marina saved us from hunger as we grabbed a vegetable low mien. When we reached Fajardo at 8, the parking lot was locked with a board hanging on the gate that read "Corredo" (you guessed it, 'Closed').As expected, he lived in the house right opposite to the parking lot and so rushed in a few minutes to open it for us. We were so tired that a hot water shower only made us feel worse and even more sleepy. Hit the bed early again since we had to start early morning the next day to catch our 9.30 am flight.
Bidding farewell to the beautiful resort and Fajardo, we headed out at 5.45am on monday. Pathetic, we got stuck in the monday morning traffic again. It was so horrible that I was whining all along about it and that we would miss the flight. But some latin God saved us as just about 10 miles away from the airport the traffic cleared and we zipped through to the airport car return in a flash. Rushing to the gate and see people already in line to board the flight, I had just enough time to grab a breakfast sandwich and stuff it into my backpack before boarding.
This time the flight took off right on dot at 9.30 and landed in Newark Int Airport at around 2 pm. Flying back we enjoyed the movie "Notebook", which we had already seen but couldn't resist watching it again (Its a good romantic sentimental drama). After we reached home, I excused myself for a nap while harini started planning her usual chores : grocery shopping, laundry, dinner etc